Bears vs Tampa Bay football game this afternoon.

Also it's the last official Sunday of summer.

Beautiful out. In the low 80's.

I have potatoes and other garden stuff to pick.

Will I regret missing any of it?

Bear's dig in and hit paydirt.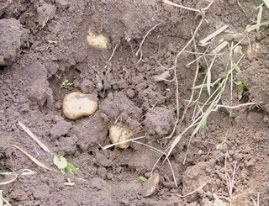 Field goal: Bears 3 - 0. Then another: Bears 6 - 0.

(I could lie and say there are 6 potatoes in the hole. ha)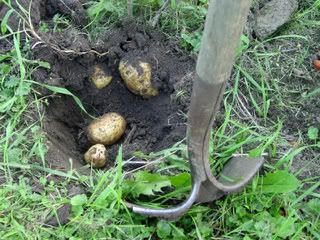 Scoring scattered all over the place (visual metaphor).

Tampa 7 - 6.

Tampa 14 - 6.

Tampa 14 - 9.

Bears 17 - 14.




Looks like a successful afternoon.

Bears 24 -14 in the fourth quarter.

Especially with their defense.

(The Bears are the potatoes).




Got bit.

(that on my arm is one of those little yellow bugs that looks like a ladybug but bites)

Lost 10 point lead in the last minutes of the game.

Their QB?

Brian Griese who wasn't good enough to stick as our QB last year.

Bears 24 - 24 tie. Game goes to overtime.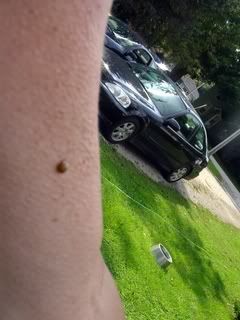 Seeing red part one: Stupid penalty.

Tampa was going to have to punt from its own 10-yard line early in overtime,

setting the Bears up with premium field position,

before one of the all-time boneheaded

Bears' penalties moved the chains for the Bucs.

Cornerback Charles Tillman was singled out in the fracas for squaring off with

Tampa wide receiver Michael Clayton and called for a

15-yard unnecessary roughness penalty. For his part,

Tillman said emotions got the best of him.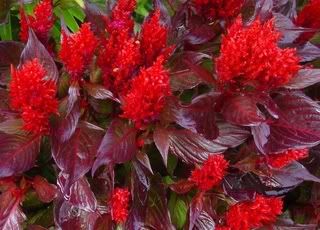 Seeing red part two:

Dropped passes, can't advance the ball in overtime.

Bears lose 27 - 24.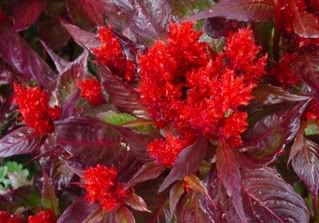 Sunday afternoon outside turned out to be the right choice.